24-acre Goochland Estate Set for Auction
A prime piece of riverfront real estate in the heart of horse country is hitting the auction block this weekend.
The 24-acre Rivers Bend estate, named for its location on a sharp bend of the James River southwest of Crozier, is set to go to the highest bidder in a public sale at 11 a.m. Saturday.
Bidders vying for the property must register by 5 p.m. Friday with Miami-based Platinum Luxury Auctions, which is coordinating the sale for sellers Robert and Lynda Bloch.
The Blochs – a former estate manager and magazine publisher, respectively – purchased the property in 2006 for $2.45 million. It was put in an LLC in 2012 and previously has been listed for sale for $3.95 million.
Consisting of multiple parcels, the primary 12.5-acre parcel that includes a two-story, 6,900-square-foot house built in 1992 was assessed most recently at $1.8 million, according to Goochland County property records.
An 8.6-acre riverfront parcel across adjacent railroad tracks was valued most recently at $4,200. The estate also includes three islands on the river totaling 3 acres.
Platinum President Trayor Lesnock said the Blochs approached the company about auctioning the home. He said the couple, now retired, has been using the property as a horse rescue for retired racehorses that are kept on the premises. Lesnock said the Blochs are looking to move out of the area in search of another property better suited for their rescue.
Featuring Palladian and Lowland architecture, the four-bedroom, 3½-bathroom house includes a solarium with 22-foot-high ceilings, a study, music room and home theater. The property has several outbuildings, including a powered children's playhouse, shed, and paddocks and shelter for horses.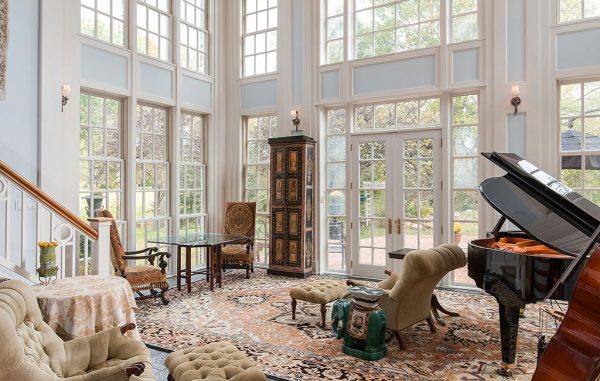 With 1,200 linear feet of river frontage, the property also includes a fountain, water garden, koi pond, a raised-bed English vegetable garden, grapevines, and an orchard with more than 60 fruit trees.
Saturday's auction will have no upper limit – the highest bid received will be awarded the sale. Registration requires a $100,000 refundable deposit, and those who place an opening bid before the auction will get 10 percent of that amount discounted from their final bid if it secures the sale.
Lesnock said no opening bids had been received as of Tuesday, though he expects some will be made by Friday's registration deadline. He said as many as 30 groups of people have expressed interest in and toured the property. Groups have come primarily from Richmond but also from Northern Virginia and elsewhere in the state, Pittsburgh, Connecticut and Washington, D.C. He said interest has also come from England and other international groups.
The live auction will be held on the property site, with only bidders and representatives allowed.
Lesnock said Platinum has publicized the auction over the past five weeks through national and local print ads, TV commercials, direct mailings, digital marketing and syndicated mailers.
"You have to really be aggressive with these promotions," Lesnock said, "because you want every kind of qualified buyer there so the seller gets a fair price."
Rivers Bend is just over a mile downriver from another notable listing, River Run Manor, a 60-acre estate that remains the area's highest-priced residential listing at $5.9 million.