A traditionally-listed property. Now repriced at $19.9 million!
Lot
3.51
+/- Acres
Water Frontage
430
+/- Linear Feet
Deep-water dockage; protected interior lot with wide turning basin.
The largest available, residential waterfront parcel in all of Miami-Dade County! This incredible property offers more than 3.5 acres and +/- 430 ft of deep-water dockage. Located within the ultra-exclusive community of Gables Estates, the property presents the opportunity to enjoy a luxurious and peaceful lifestyle amongst a very select group of residents.
The elevated, western portion of the lot gently slopes downward as it extends towards the waterway, while a soft breeze continually cools the property and provides a reprieve from the South Florida sunshine.
The parcel's interior location provides added protection for large vessels, while the widened canal serves as an ample turning basin. The sparkling Atlantic Ocean is just a few minutes from the dock (with no fixed bridges to slow your cruise).
The parcel's unique location also allows for easy ingress and egress to Coral Gables' Old Cutler Road. Palatial estates border the property on both the north and south, preserving and enhancing its value.
A true Trophy Property and incredible development opportunity for the select few!
GABLES ESTATES. Located in Coral Gables and on the open Biscayne Bay, Gables Estates has long been known as one of Miami's – and the country's – most exclusive communities. The waterfront enclave boasts 24-hour, guard-gated security in addition to regular vehicle patrol, and is known for the thorough nature of its residential membership application process.
Despite its exclusivity, living within the gates of Gables Estates is convenient. In addition to unrestricted boating access to the Atlantic Ocean, the community is located within close proximity to Miami International Airport, downtown Miami, South Beach and Key Biscayne.
Inquire for additional details and membership application information.
CORAL GABLES, FLORIDA. Coral Gables is one of Miami-Dade County's most desirable residential enclaves for wealthy individuals (average household income here is more than double the countrywide average). Nicknamed simply "The Gables" and fondly referred to as "The City Beautiful," this area is known for its lush, tropical landscape and scenic roads that wind through private neighborhoods populated with some of South Florida's most expensive and illustrious residential real estate (in the category of both waterfront and non-waterfront homes).
George Edgar Merrick developed the city in the 1920's, emphasizing a Mediterranean Revival architectural style. Since that time, the city's tough stance on zoning combined with building incentives geared towards preserving the integrity of its historical architecture ensures that The Gables maintains its tony image and reputation.
In addition to its luxury residential communities, Coral Gables is also an important regional business center, housing over 155 multinational companies, mostly in Class-A office suites. The backbone of the area's commercial district is the Miracle Mile (originally the downtown's "Main Street"). This is where one will find a collection of upscale retail stores, fine dining establishments and executive offices.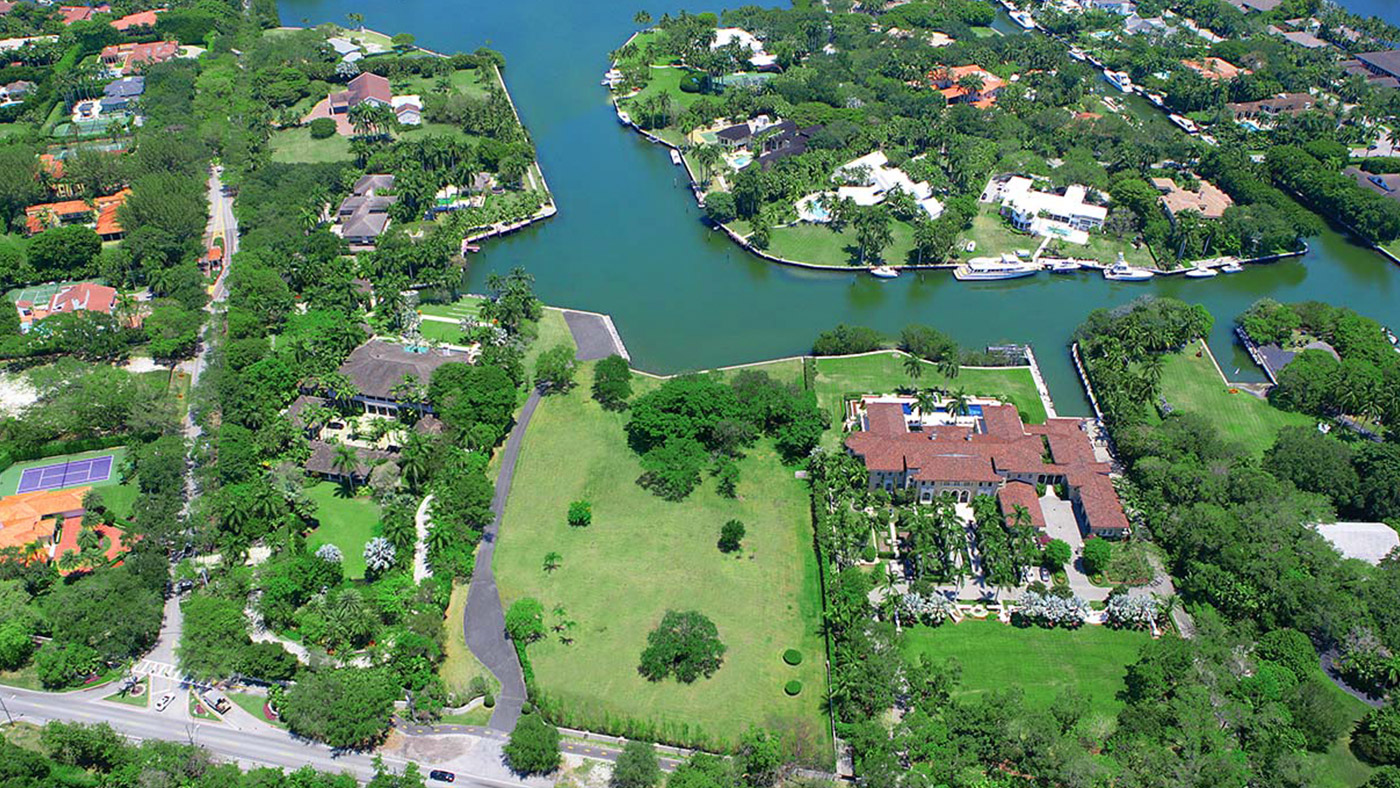 REQUEST ADDITIONAL INFORMATION
If you require additional information that is not provided, please fill out the form below and a Platinum representative will contact you.
Lock & Key Access
Accessing documents requires a Lock & Key account.
Register or Sign In
A Lock & Key account does not obligate a user to any type of subscription service or heavy barrage of emails. Instead, Lock & Key unlocks features within the Platinum website, such as accessing and downloading documents, saving favorites, gaining early access to upcoming luxury auctions®, and more.
Property listed and offered for sale by ONE Sotheby's International Realty, a Licensed Florida Real Estate Corporation. Listing agent Jorge Uribe. Platinum Luxury Auctions LLC and its affiliate company Platinum Venture Holdings LLC are both Licensed Florida Real Estate Corporations providing co-marketing and consultancy services for this transaction. This is a traditionally listed property. Not for sale via luxury auction®.